SXSW Pitch 2020: Accepting Applications Starting July 1

June 24, 2019
June 24, 2019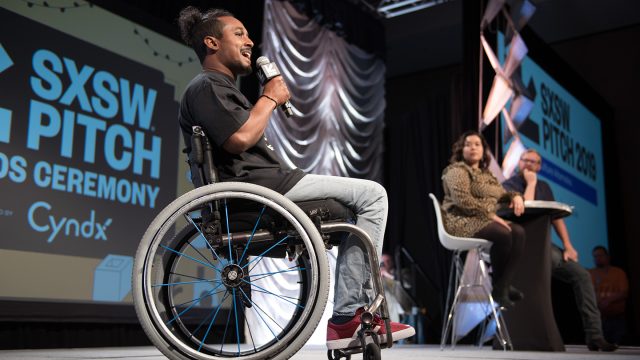 At the 12th annual SXSW Pitch, a live audience and a panel of expert judges will discover advancements in various sectors of emerging technology. 50 Interactive technology companies from 10 different categories will dazzle a live audience with their company pitch and Q&A with our panel of judges.
Join us for product demonstrations by the most ambitious talents in the world with the creative new ideas to change it. Applications open July 1 – check back then for more information on submitting an application.
SXSW Pitch Alums have received over $6.8 billion in funding. From our inaugural year of 23 participants to a total of 503 through 2019, we are proud to be a catalyst of many successes. Some of our most prestigious alums include Klout, ICON, Hipmunk, Wildfire, Siri, TubeMogul, Foodspotting, and Tango. With 75% of participants receiving funding and 16% of participants getting acquired through 2019, SXSW Pitch is committed to providing startups a platform to achieve their dreams and goals.
Eligibility
To be eligible:
A company's product or service must have launched no earlier than March 14, 2018 but no later than June 14, 2020.
Each company may only enter one product or service to SXSW Pitch
Founders of the company applying must retain some portion of ownership in the company
The Company must not have raised over ten (10) million dollars in funding from combined funding sources
The product or service must fall into one of the SXSW Pitch categories
For questions about eligibility, the selection process, and more, please see the FAQ.
For any SXSW Pitch inquiries, please contact michelle@sxsw.com.
Attend SXSW 2020
Planning to join us for SXSW from March 13-22, 2020?
Register to attend and book your housing on August 1, 2019. Stay up to date on SXSW 2020 news by following us on Facebook, Twitter, and Instagram.
Featured Image by Camille Mayor
The post SXSW Pitch 2020: Accepting Applications Starting July 1 appeared first on SXSW.
Source: SxSW Interactive