3 Reasons Why Your Business Needs to Be at the SXSW Trade Show

January 23, 2019
January 23, 2019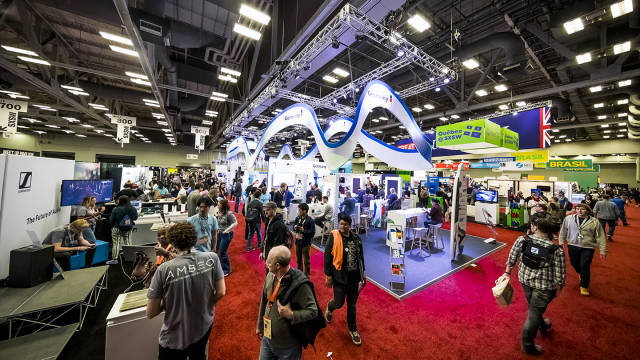 March is just around the corner, and here at SXSW we're in full gear for the 2019 Trade Show, running March 10-13. In 2018, some of our fastest growing areas on the show floor were augmented and virtual reality, lifestyle tech, wellness, and international delegations. This year, we're excited to see what new trends emerge – and that's all up to you!
If you've thought about applying to be a part of the 2019 Trade Show, or if you're still on the fence about it, here are three reasons why you should be there.
It's the Heart of SXSW Exhibitions
The Trade Show is hands down the epicenter of business at SXSW.
In no other place at SXSW will you find this many creative businesses and organizations together in one place. In fact, 2018 brought together more than 250 exhibitors from 27 countries with an incredibly diverse range of businesses from all industries and sectors, including health and medtech, marketing, music and film equipment, robotics, aerospace, mobile apps, 3D printing, and more.
Gain Exposure
Looking to increase brand recognition along with your customer base? In 2018, the Trade Show saw a four-day, internationally diverse attendance of 75,000. With attendees from 102 countries, the SXSW Trade Show is an unparalleled opportunity for small to medium-sized companies to internationalize their business.
Network with Registrants and Other Exhibitors
Whether you're an established industry leader, or a flourishing startup in search more funding, the Trade Show is the perfect place to make contacts, follow up on leads, and network with talented and creative people.
If you're a company looking to add dynamic thinkers to your organization or a professional looking to join an top-notch company, you can find your match at the Job Market. Swing by the Meet Up Pavilion for some casual networking with other professionals while exploring a range of topics from the Interactive, Film, and Music industries.
Are you a fledgling business looking to showcase your innovations or possibly acquire seed funding from new investors? Startup Village and Startup Spotlight are great platforms to launch a new product and promote your startup.
We are currently looking for more creative entrepreneurs and forward-thinking innovators to apply to participate. Don't miss out on this great opportunity to stake your spot at one of the most unique exhibitions out there!
Photo by Aaron Rogosin
The post 3 Reasons Why Your Business Needs to Be at the SXSW Trade Show appeared first on SXSW.
Source: SxSW Film