Apply to Exhibit: Wellness Expo is Back for 2019!

November 15, 2018
November 15, 2018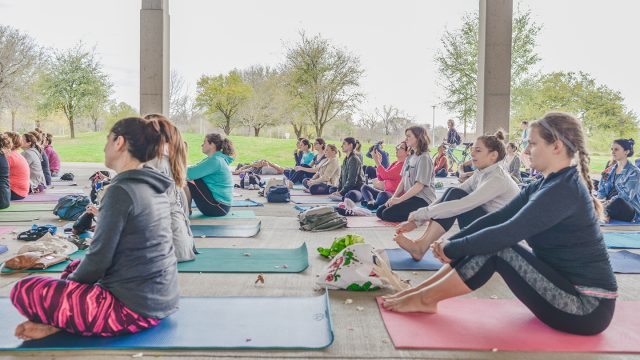 In its second year, the SXSW Wellness Expo returns to fuel your mind, body, and soul. Running March 9-10 at the Palmer Events Center, the Wellness Expo is an eclectic convergence of health, fitness, and spirituality. In its 2018 debut, the Wellness Expo saw a two-day attendance of 13,500 along with 157 exhibitors, and we're still looking for people to apply to exhibit to make this year's expo even bigger.
According to the Global Wellness Institute, the value of the global wellness industry grew from $3.7 trillion to $4.2 trillion between 2015 and 2017. Principles like healthy living, self-care, and many more are dominating the mainstream, and at SXSW our goal is to provide an all-encompassing exhibition that captures the industry's wide range of topics.
The Wellness Expo brings together thousands of SXSW attendees to interact with numerous companies in the fields of health and wellness including:
CBD Products
Clean Eating
Continuing Education
Exercise and Fitness
Herbs & Supplements
Marketing/Advertising/PR/Media
Spirituality
Startup
Wellness Tech
Women's Health
The expo is also host to some exciting stages. The SXSW Wellness Expo Stage features programming, group health activities such as meditation, and demos and workshops. The Stage lets SXSW Wellness Expo attendees expand their health and wellness knowledge by participating in discussions and classes relevant to the industry.
Overlooking beautiful Lady Bird Lake and the charming Austin skyline, the Fitness Stage lets you experience free classes from world-renowned instructors. Classes are for all levels and include yoga, strength and circuit training, and much more.
Conscious Conversations provides highly interactive, wellness-focused activities including meditation, dynamic workshops, and more with industry professionals.
The Wellness Expo is the perfect place to meet and make new connections with like-minded individuals, share ideas and expertise, and discover new trends in the worlds of health and wellness. To get the latest news about the SXSW Wellness Expo — including information about programming, exhibitors, speakers, activities, the advisory board, and more — sign up for updates.
Photo by Matt Bradford
The post Apply to Exhibit: Wellness Expo is Back for 2019! appeared first on SXSW.
Source: SxSW Film