Register Now for SXSW 2019 & Save: Early Deadline Extended Through September 17

September 14, 2018
September 14, 2018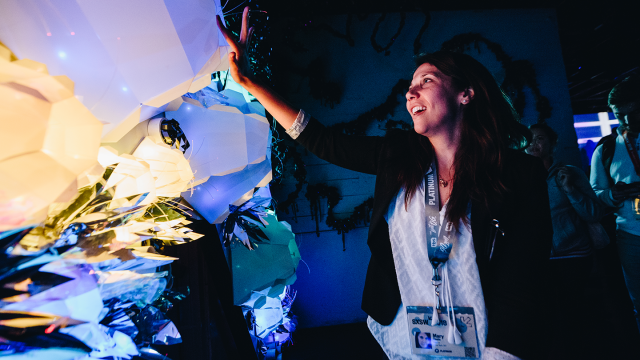 This week marks the reveal of the first round of 2019 Keynotes and Featured Speakers. Register today to gain access to our exciting lineup of programming and great hotel options at the lowest rates of the season! Take advantage of the early registration deadline extension through Monday, September 17 at 11:59pm PT and save.
Join us for the 2019 SXSW Conference & Festivals from March 8-17 for an event packed full of showcases, screenings, conference sessions, exhibitions, tacos (so many tacos), workshops, networking events, mentor sessions, and so much more.
Read on for more information on programming, badge access, booking your hotel, and other participation opportunities.
Programming Overview
SXSW dedicates itself to helping creative people achieve their goals. Founded in 1987 in Austin, Texas, SXSW is best known for its conference and festivals that celebrate the convergence of the interactive, film, and music industries. As an essential destination for global professionals, SXSW proves that the most unexpected discoveries happen when diverse topics and people come together.
SXSW Conference (March 8-16)
The conference program provides an opportunity for global professionals at every level to participate, network, and advance their careers. With one unified conference that spans 25 tracks of programming, experience compelling Keynotes, Featured Speakers, panels, sessions, workshops, book readings, podcasts, and more.
SXSW Interactive Festival (March 8-12)
Playing host to a variety of evening networking events, the Interactive Festival also holds numerous esteemed competitions and award ceremonies honoring some of the tech industry's most important innovators and cutting-edge companies. Have a game-changing tech startup? Learn more about SXSW application categories.
SXSW Film Festival (March 8-16)
Celebrating raw innovation and emerging talent, the Film Festival has become known for the high caliber and diversity of films presented alongside its smart, enthusiastic audiences during its nine-day event footprint. Ready to premiere your own film? Film submissions are open through October 18.
SXSW Music Festival (March 11-17)
Featuring a variety of new, developing, and established Showcasing Artists, the Music Festival brings together 2,000+ artists across all genres. Dive into a curated mix of performances across Austin with artists, industry professionals and fans from around the globe. Want to take the stage? Showcasing Artist applications are open through October 25.
SXSW Comedy Festival (March 8-16)
Running simultaneously with the Interactive, Film, and Music Festivals, the Comedy Festival presents uniquely diverse programming of comedic performers, showcases, and events. Catch rising stars, established greats, and surprise guests all SXSWeek® long.
Exhibitions (March 8-16)
Beyond the festival scope, SXSW hosts many different world-class exhibitions that connect creatives across all industries. Applications for all SXSW Exhibitions are now open – explore all the available exhibition opportunities to position your forward-thinking company in front of thousands of creative professionals this March.
Coming later in the season, a suite of event resources will be released to help registrants prepare for the adventure ahead including the online SXSW Schedule, official mobile app, and more event navigation tools. In the meantime, view the 2019 SXSWeek® Timeline for a general breakdown of our daily programming schedule.
Badge Access
All attendees will receive primary entry to programming associated with their badge type, in addition to enjoying secondary access to most other SXSW events. There are four SXSW Badge types: Platinum, Interactive, Film, and Music. Badges are tied to three access types:
Primary: admitted first
Secondary: admitted second, after primary line
Convergence: one line where all badges have equal access
The Platinum Badge remains your best bet with primary access to all of SXSW. If you have an Interactive, Film, or Music Badge, you have primary access to the respective Conference tracks and events of your badge type, plus secondary access to other tracks and events outside your badge type, giving you the chance to experience more of what SXSW has to offer. All SXSW registrants also receive complimentary access to SXSW Gaming.
Explore 2019 registration rates and deadlines at sxsw.com/attend and use the Badge Comparison Chart to find out what each badge gets access to.
Click to View the Badge Comparison Chart
Primary
Access
Secondary Access
Interactive Tracks, Keynotes & Featured Speakers
Interactive Mentor Sessions & Workshops
No Secondary Access
Interactive Festival Events
Interactive Festival Opening Party
No Secondary Access
Film Tracks, Keynotes & Featured Speakers
Film Mentor Sessions, Round Tables, Workshops & Parties
No Secondary Access
Film Festival Screenings & Events
Film Festival Exclusive Premieres
No Secondary Access
Music Tracks, Keynotes & Featured Speakers
Music Mentor Sessions, Workshops & Parties
No Secondary Access
Music Festival Showcases & Events
Music Festival Exclusive Showcases
No Secondary Access
Convergence Tracks, Keynotes & Featured Speakers
Comedy Festival Showcases & Events
Trade Shows & Exhibitions
Networking Meet Ups
Film Festival SXXpress Passes
No Secondary Access
Music Festival SXXpress Passes
No Secondary Access
Closing BBQ & Softball Tournament
No Secondary Access
Hotel Priority Booking & Assistance
Access to SXSW Social Online Registrant Networking
SXSW Festival Shuttles
To help you get started, we've created the 2019 SXSW Badge Quiz. Based on the interests you select, the quiz will suggest the badge that will help you get the most out of your SXSW experience. Take our quiz to find out which badge best suits your needs.
Book Your Hotel
After you register, make hotel reservations through SXSW Housing & Travel. In 2018, the typical SXSW attendee using SXSW Housing's contracted hotel rates saved between 35%-50% compared to online travel agencies and direct bookings.
Rooms during March go quickly, so be sure to check the Hotel Availability page and enter your dates to see all available hotels, room types, rates, and amenities. Read our Tips to Book Your Hotel including booking for an individual, large groups, and payment policies.
Join Us for SXSW 2019
Register to attend and book your hotel to begin your SXSW adventure! Get ready to help us write the next chapter of SXSW during March 8-17, 2019.
Currently enrolled students and accompanying faculty may apply for a special discounted rate – more details here. And groups of 10 or more can save big with Group Registration rates.
Learn how to participate in one of the many prestigious SXSW categories including Film Festival submissions, Music Festival Showcasing Artist applications, Interactive Innovation Awards, SXSW Pitch (formerly Accelerator) and more.
To stay in the SX know, sign up for SXSW Event Updates and read SXSW News for announcements, deadline reminders, programming features, and beyond throughout the 2019 season.
Follow us in all the usual social spots for daily updates – Twitter, Facebook, and Instagram.
Photo by Judy Won
The post Register Now for SXSW 2019 & Save: Early Deadline Extended Through September 17 appeared first on SXSW.
Source: SxSW Film