2019 Interactive Tracks: Design, Health & MedTech, Intelligent Future and More

July 9, 2018
July 9, 2018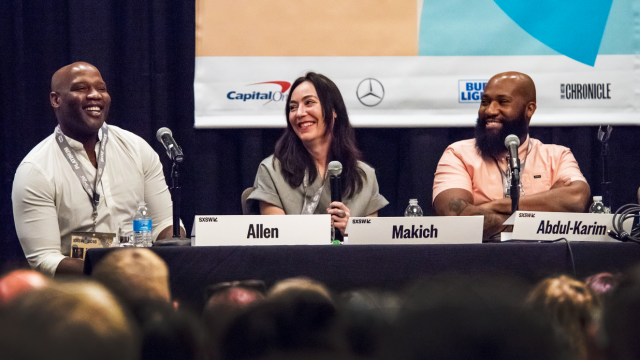 Propose your original, future-focused session idea for the opportunity to speak at SXSW 2019! PanelPicker®, the official SXSW user-generated proposal platform, is now accepting session ideas through July 20, 2018.
Within the SXSW Conference, the following 10 Interactive Tracks each explore its close relationship with technology and delve into the latest advancements and ideas from the worlds of business, tech, healthcare, design, and beyond. Browse the 2019 Interactive Tracks below and figure out which programming track is best suited for your session idea.
March 14-16 | The Blockchain & Cryptocurrency Track explores the ideas, investors, leaders, policies, and tokens that will be impacting global economics and business.
March 9-14 | When building or maintaining a brand, learning how to engage a consumer and create brand loyalty is vital to success. With emerging markets in mind, learn from creative strategists in the industry on creating campaigns by way of data, neuroscience, storytelling, and tech trends with the Brands & Marketing Track.
March 9-12 | New for 2019, the Coding & Development Track approaches technological advancements for engineers, coders, developers, and programmers, with a truly interactive and educational experience. Workshop format only.
March 8-12 | The Design Track covers how design informs our interactions, shapes our experiences, and plays a critical role in problem-solving. Attendees gain clear ahead-of-the-curve design-related takeaways that they can apply in their professional lives. The majority of sessions in the Design Track are solo presentations.
March 8-12 | The Entrepreneurship & Startups Track brings together founders and funders of all stages to talk about current best practices as well as the most exciting new companies and services across industries.
March 9-13 | The Future Workplace Track brings together HR, talent, and corporate leaders to discuss innovation and forward-thinking initiatives that will impact the future and design of today's workplace.
March 8-12 | The Health & MedTech Track focuses on the new technologies and approaches being applied to health, medicine, and well-being, including a deep dive into how the ecosystem of patients, providers, and payers interface with technology to improve health in the communities where we live, work, and play.
March 8-14 | The Intelligent Future Track embraces burgeoning and transformative technologies that are embedded in everyday life. Programming will explore the impact of technologies such as artificial intelligence, deep machine learning, connected devices, and more.
March 8-11 | The Style & Retail Track features conversations around technology's ever-evolving role in shaping the in-store & e-commerce experience, sustainable & smart fabrics, customization, innovations in beauty, and conversations around diversity and inclusion.
March 8-14 | The Tech Industry & Enterprise Track focuses on the forward-thinking innovation of today and what we project to be trending tomorrow. Join executives and leaders from a variety of industries to discuss the evolving landscape of technology driven services.
PanelPicker Proposal Information
PanelPicker proposals can be entered in variety of session formats including panels, solo presentations, workshops, and more. Visit the SXSW PanelPicker page and read the PanelPicker FAQ to learn more about the PanelPicker entry process and valuable tips.
Looking for PanelPicker inspiration? Check out session highlights from SXSW 2018 below representing a range of formats and Interactive Tracks.
Can We Create Consciousness in a Machine? (Intelligent Future) – Consciousness is the deepest part of humanity. Now, innovative research is ushering in a new era of truly intelligent machines. They will be our partners in solving the great medical, technical, and scientific problems of the world. And their thinking may share some of the fantastic beauty, unpredictability, and creativity of our own. Join the world's top thinkers on machine consciousness to debate the challenges and realities of this strange new world.

Designing VR Rx (Health & MedTech) – Imagine your doctor prescribing a VR application. That is the exciting future of healthcare and virtual reality as the two fields collide towards technology assisted medicine. Join Stanford, Framestore, Time Inc. + LIFE VR to discuss how they designed their relaxation application LUMEN as a prescription to children facing heart surgery.

Generous Parental Leave: A Liberty or A Luxury? (Future Workplace) – Many U.S. companies have meager parental leave policies that leave behind fathers, adoptive parents, and low-wage workers. For example, American fathers take an average one week of leave – with over half saying they took less than they needed. This panel will debate the value of having generous parental leave for all parents and delve into how to build out a parental leave policy in today's corporate climate. A climate where the status quo fails to address the family needs that most people have.
Propose session ideas through PanelPicker® by July 20 at 11:59pm PT. All ideas received during the entry period will be posted online for the community to vote from August 6 – August 30, 2018.
Join Us in March 2019
More SXSW participation opportunities are now open including SXSW Pitch, Interactive Innovation Awards, music showcases, film submissions, SXSW Art Program, and Place By Design.
Whether you're hoping to share your next big idea or cultivate new ones – SXSW is your destination for discovery and collaboration. Join us for another exciting event from March 8–17, 2019. Registration and Housing opens on August 1 for the 2019 SXSW season. In the meantime, journey into the SXSW inspiration vault also known as our YouTube Channel to watch Keynotes, Featured Sessions, Red Carpets, and more.
Stay tuned to SXSW News for the latest SXSW coverage as well as all the usual social spots – Facebook, Twitter, and Instagram.
2018 Design Session, Scaling Design Systems: Pixels to People – Photo by Amanda Stronza
The post 2019 Interactive Tracks: Design, Health & MedTech, Intelligent Future and More appeared first on SXSW.
Source: SxSW Interactive