Tips for SXSW PanelPicker Entry Success – Deadline Friday, July 21

July 13, 2017
July 13, 2017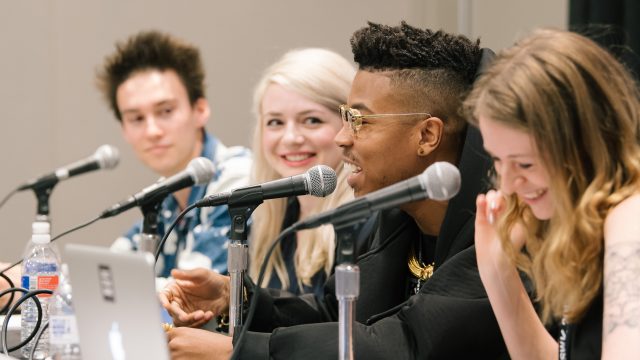 With so many PanelPicker proposals, how can you ensure that your amazing idea stands out? As the Friday, July 21 deadline approaches, take a dive into our helpful PanelPicker resources below, from tips for success to an overview of SXSW Conference tracks, as you construct the perfect proposal.
Tips for PanelPicker Success
Follow the instructions and read the FAQ. Reading the PanelPicker FAQ will give you important information about SXSW and some valuable tips for creating a great proposal. For a walk-through of the PanelPicker form and entry process, watch the How to Enter Your Proposal video. Once you've watched the video and read the FAQ, you are ready to get started!
Create a future-focused, original proposal that shows what you're passionate about. Often SXSW previews what you'll be talking about next year and beyond in tech, culture, music, and film. Give us your perspective on what lies ahead and why.
Depth and specificity. SXSW attendees want advanced, in-depth information, so be sure to delve into the particulars of a topic. The more specific a proposal is, the better. Drill down to what really matters.
Solo sessions and strong moderators. While panels works well as a session format across the Conference, the SXSW community tends to prefer solo presentations for Interactive and tech-focused tracks. Be sure you have a strong moderator if you are going to propose a panel.
Your title should reflect your description. Your title is going to be fighting for attention with hundreds of other titles in PanelPicker, so it's important for your title to be direct and explanatory. The community should be able to understand what the proposal will cover without reading your description. Remember: think simple, accurate, and succinct. Pro-tip: Avoid using ALL CAPS in your title and proposal.
Diversity matters – all panels (3-4 person sessions) must include diversity in gender, race, location and employment of speakers, and diversity in thought and opinion.
Include a video with your proposal. Your speaking abilities matter and we'd like to see them. Does the video need to be a fancy production? No, the video does not have to be professionally produced and can simply be recorded on your webcam or phone.
Proofread, proofread, proofread. Did we mention to proofread? Spelling, grammar, and punctuation are extremely important. PanelPicker allows you to securely edit your proposal up until you click "Enter Proposal" on the final page.
Meet the deadline. The 2018 PanelPicker entry deadline is 11:59pm PT on Friday, July 21.
SXSW Conference Tracks
The SXSW Conference provides an opportunity for global professionals at every level to participate, learn, and network. Explore what's next in the worlds of entertainment, culture, and technology within 24 tracks of programming plus our SXSW Eco curated Cities Summit. Learn more from our track overviews for Interactive, Film, Music, and Convergence including additional proposal tips.
While PanelPicker contributes to the majority of the 2018 SXSW Conference programming, it also helps us identify industry trends based on each season's entries. Explore 2017 Programming Trends and follow SXSW News for the latest updates in trends that emerge from the 2018 PanelPicker.
Enter Your PanelPicker Idea
Visit PanelPicker.sxsw.com, login or create a new profile to begin. All ideas received will be posted online for Community Voting from Monday, August 7 – Friday, August 25. Review the resources and tips to get started – PanelPicker entry deadline is Friday, July 21 at 11:59pm PT. Good luck!
Mark your calendars – registration and housing opens on Tuesday, August 1 for the 2018 SXSW Conference & Festivals in Austin, Texas from March 9-18.
2017 SXSW Conference panel, Jazz in the Digital Age – Photo by Danny Matson
The post Tips for SXSW PanelPicker Entry Success – Deadline Friday, July 21 appeared first on SXSW.
Source: SxSW Film