A Conversation with Mick Fleetwood at the 2017 SXSW Conference [Video]

June 8, 2017
June 8, 2017
"I don't have any regrets because it somehow has been worth a damn and a lot of great people have come onto the stage . . . they all have their own thing about who they are." – Mick Fleetwood on the different lineups of Fleetwood Mac
Mick Fleetwood, drummer and a founding member of the iconic band Fleetwood Mac, shares anecdotes from his early career in the band with senior editor at Rolling Stone magazine, David Fricke, in this Featured Session at the 2017 SXSW Conference.
Fleetwood speaks at SXSW in the lead up to the release of his book Love that Burns – A Chronicle of Fleetwood Mac Volume One 1967 – 1974 from Genesis Publications. Music industry veteran David Fricke frames his questions chronologically, giving viewers of the session a unique perspective on the meteoric rise of Fleetwood Mac from playing the blues in small clubs to filling stadiums. Stories about the early formations of the band are entertaining, and demonstrate how a willingness to embrace change allowed for the band's long-term success.
Watch the full SXSW 2017 Featured Session in the video above featuring a conversation between Mick Fleetwood (Fleetwood Mac) and David Fricke (Rolling Stone).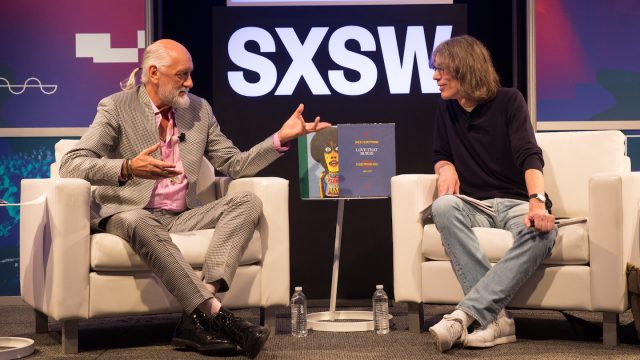 Explore More Content From SXSW 2017
Get inspired by a multitude of diverse visionaries at SXSW – browse more 2017 Keynotes, Featured Sessions, Red Carpets, and Q&A's on our YouTube Channel.
Follow us on Facebook, Twitter, Instagram, and SXSW News for the latest SXSW coverage, recaps, late-breaking announcements, and updates.
Mick Fleetwood and David Fricke photo by Melissa O'Brien
The post A Conversation with Mick Fleetwood at the 2017 SXSW Conference [Video] appeared first on SXSW.
Source: SxSW Music