SXSW Joins Mercedes-Benz to Host Future-Focused Convention in Frankfurt

May 23, 2017
May 23, 2017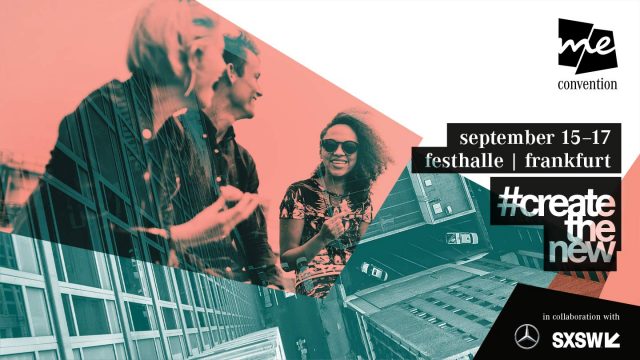 SXSW® is about pushing boundaries. For over thirty years, our goal has been to create a platform providing creatives the knowledge, access, and tools to make vision become reality. From musicians to startups, from film distribution to bioscience, SXSW is a place where innovation and ideas find a new audience – a place of unparalleled discovery.
But SXSW provides more than just a place, it has become a vibrant community. Today, SXSW announces a new effort to support you – our community – by expanding our boundaries into Europe.
Frankfurt, Germany is a geographic and cultural center of Europe, with over 450,000 people traveling through the central train station each day. Its history as a destination for cultural exchange and international commerce meets today's technology and creative energy to make it one of Europe's most dynamic cities. People of approximately 180 nationalities live within five blocks of central station, making Frankfurt a perfect fit for discovery and inspiration.
Against this backdrop, SXSW is proud to collaborate with Mercedes-Benz to host me Convention, a critical dialogue on the future. This September 15-17, me Convention will offer an exciting platform for open conversation in the historic Festhalle Frankfurt, which features award-winning architecture and a festival-like setup. Taking place alongside the world's largest International Motor Show (IAA), me Convention hosts three days of workshops, expert talks, keynotes, co-working space, interactive labs, and evening events throughout the city.
2017 Topics include:
New Creation – Manufacturing and distribution are no longer barriers to creation, but time and attention have become scarce resources. People are increasingly asked to make snap judgements and process huge amounts of information – what are the effects, opportunities, responsibilities, and consequences of the "always on" generation? How can businesses at all scales benefit from collaborating with consumers during the R&D and creation process?
New Leadership – Traditional leadership and business models are rapidly evolving. What are the most effective strategies, technologies, and possibilities within this new relationship to work and leadership?
New Realities – Analogue and digital technologies now blend seamlessly to create new realities. How will artificial intelligence, bioscience, genetic engineering, and mixed reality shape our lives? What will we gain by blurring the borders between real and artificial, human and machine, natural and man-made, and how can we adapt to these new realities?
New Urbanism – The evolution of our living environments from housing as a service to smart, connected homes and the expansion of urban centers around the world is now underway. How do we intentionally shape our cities and surrounding areas to create engaging, equitable, and healthy communities?
New Velocity – Changes that once required long and complex processes are now immediate – societies transform quickly, technological innovations spring up daily, cities change their faces overnight. How does this rapid acceleration affect our well-being and environment, and how can humans not only cope, but thrive, living with exponential change?
The full lineup of speakers and sessions will be announced over the next few months.
Share your vision for tomorrow by registering today! A limited number of badges are now on sale for the early-bird rate of €300 EUR ($337 USD). Follow @meconvention on Instagram and Twitter, and sign up for the me Convention newsletter.
Image Courtesy of Liganova
The post SXSW Joins Mercedes-Benz to Host Future-Focused Convention in Frankfurt appeared first on SXSW.
Source: SxSW Film