PanelPicker Opens on June 26 for the 2018 SXSW Conference

May 11, 2017
May 11, 2017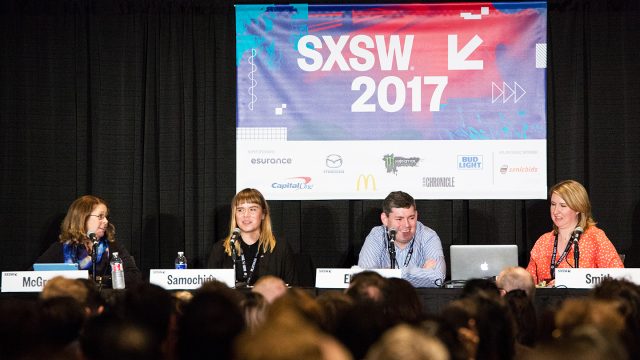 It's already time to start thinking about SXSW 2018! We were blown away by the innovative programming submissions for 2017, so we're excited to begin looking ahead to next season. Be part of SXSW 2018 – propose programming ideas through PanelPicker® starting Monday, June 26 through Friday, July 21.
PanelPicker is the official SXSW user-generated session submission platform. This easy, two-step online process allows the SXSW community to have a voice in what creative and thought-provoking programming is scheduled at the SXSW Conference, SXSWedu, and SXSW Gaming.
History Lesson
In 2007, the innovative online submissions tool dubbed as PanelPicker was born. SXSW values community input and involvement, so PanelPicker was developed to encourage the community to submit proposals for our daytime conference programming. The SXSW community is then able to browse submitted ideas, leave comments, and vote to help shape the SXSW Conference each March.
The SXSW Conference provides an opportunity for global professionals at every level to participate, learn, and network. With 24 tracks divided amongst Interactive, Film, Music, and Convergence, presented in a variety of session formats, each track allows attendees to explore what's next in the worlds of entertainment, culture, and technology.
The Application Process
During the open application process, we encourage the community to upload proposals related to music, film, and digital technologies in variety of formats including panels, solo presentations, workshops, and more. When PanelPicker opens on June 26, the application process is simple: visit PanelPicker.sxsw.com, read the FAQ, and fill out the form.
All ideas received will be posted online for the PanelPicker Community Voting period – dates coming soon. Community votes makeup 30% of the final decision, plus input of the SXSW Staff (30%) and Advisory Board (40%) helps ensure that lesser-known voices have as much of a chance of being selected to speak at SXSW as individuals with large online followings. Together these percentages help determine the final programming lineup – it's as easy as "submit, review, comment, and vote" to help shape SXSW programming.
Coming Soon
Stay tuned for more updates on PanelPicker entry, FAQs, tips, Community Meet Ups, and SXSW 2018 information. Sign up for SXSW Event Updates to receive PanelPicker notifications and follow us on Twitter, Facebook, Instagram, and SXSW News for the latest announcements, recaps, and more.
Mark your calendars for June 26 and use this advanced notice to help get those gears turning as you prepare for your PanelPicker vision quest to find that great idea.
SXSW 2017 Conference panel – Space 360: Experience NASA Missions in VR/AR/Video – Photo by Errich Petersen
---
Related News:
The post PanelPicker Opens on June 26 for the 2018 SXSW Conference appeared first on SXSW.
Source: SxSW Film