The Memphis Picnic Has Got the Blues

March 13, 2017
March 13, 2017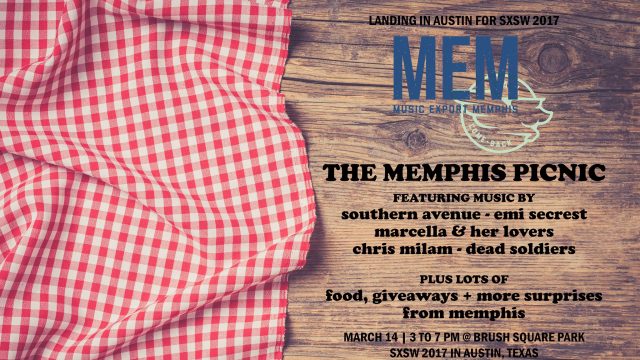 If you're a music fan, you probably know a thing or two about Memphis: birthplace of blues, city of Elvis and Al Green, Sun Studio, Hi Records, Stax and American, Ardent, and Big Star. But what do you know about what's happening right now?
Memphis is still a city of originals, and you can sample some of them when Music Export Memphis brings its Memphis Picnic to Brush Square Park's East Tent tomorrow, March 14 from 3-7pm.
There'll be music, of course. The centerpiece of the picnic is a diverse lineup of Memphis music, featuring Emi Secrest, Chris Milam, Marcella & Her Lovers, Dead Soldiers, and Southern Avenue. You can listen to a preview on Spotify.
If music is the main course, try a few more Memphis originals on the side. Gus's will be frying up chicken just a few feet from where it'll hit your plate. Between bites, grab some Memphis swag—and try your brain at Memphis trivia—from New Memphis Institute and enter to win a trip to Memphis courtesy of the Memphis Convention & Visitors' Bureau. Remember the day with a photo op you'll never forget inside the Amurica Photo Trailer.
The Memphis Picnic is hosted by Music Export Memphis, a not-for-profit initiative that creates opportunities to showcase Memphis music outside the city to drive talent attraction, business development, music tourism and the music economy. It's co-hosted by StartCo, a Memphis venture development organization, and EPIcenter, a collaborative community-wide strategic initiative that helps entrepreneurs conceive, launch and scale businesses.
Add the Memphis Picnic to your schedule.
Content and image provided by Music Export Memphis
---
Related News:
The post The Memphis Picnic Has Got the Blues appeared first on SXSW.
Source: SxSW Film